Two weeks, Kyrgyz Republic, Central Asia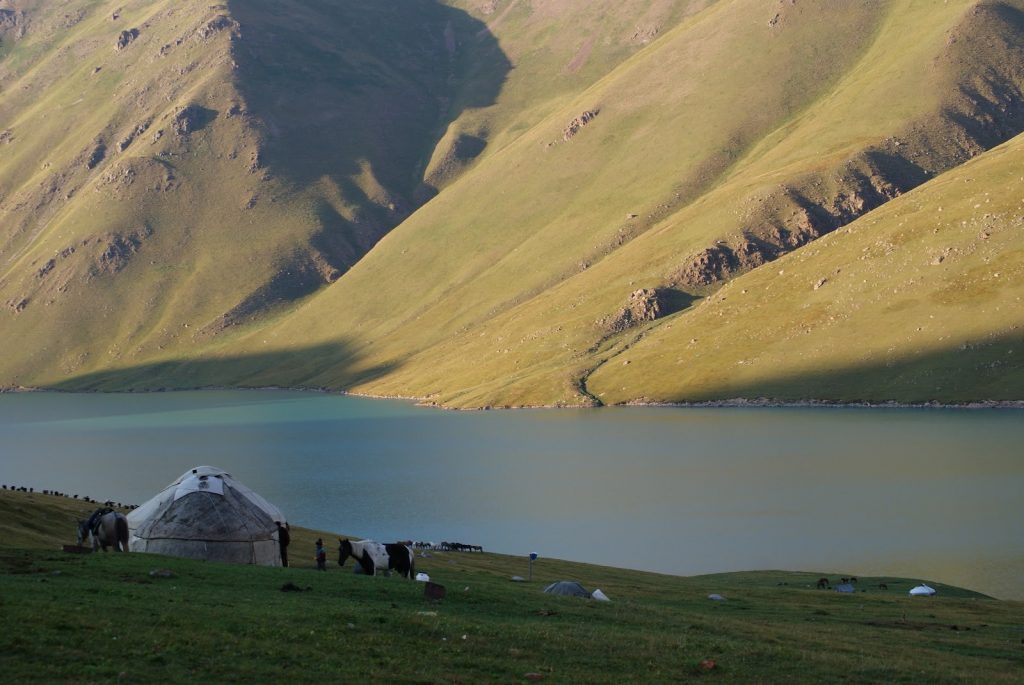 Photo: Vasja Senft
Ideal for students studying natural resources governance; environmental management, policy or law; climate change adaptation and resilience issues; conservation and biodiversity; and sustainable development.
Two-week study tour includes:
Four-day field trip to remote mountain area
Case studies: climate change and resilience, energy governance, conservation and biodiversity, sustainable development and land management (pastures)
Seminar on sustainable development with local university students
Homestays with local families in a village
Overnighting in traditional Kyrgyz yurts (felt houses) in mountains with semi-nomadic Kyrgyz families
Cultural activities
Partnerships with local young people and environmental activists
Study tour reader
Students participate in a four-day field trip, visit local and international NGOs, meet local community members and local government, experience traditional rural daily life, life in a post-Soviet city, and engage with local students.
As programme activities include hiking at high altitude (3000m+), participants must be able-bodied with a good level of fitness. The study tour will take place with a minimum of 14 students and will accept no more than 20 participants. Organisers are English-speaking with Master's degrees in a relevant field.
Cost covers travel to and within the Kyrgyz Republic (return flight from a major European city), accommodation, three meals per day, all programme activities, facilitators, all additional guides, and a donation to MoveGreen. Total cost: €1600.
Not included: Travel/health insurance, registration fee for tourists in the Kyrgyz Republic (approx. €5) and extra spending money.
Brief itinerary:
Day 1:           After arrival in Bishkek and transferal to the hotel, take part in a city walking tour (optional), meet other participants and facilitators, and enjoy an introduction to the Kyrgyz Republic.
Day 2:           Case study: Climate change, resilience and adaptation. Join a workshop on climate change in Central Asia, then visit one local and one international NGO working on climate change issues. In the evening, attend a cultural event (optional).
Day 3:           Case study: Energy governance. Attend an interactive workshop and learn about the fascinating and complex topic of energy in Central Asia, followed by an energy tour of Bishkek.
Day 4:           Case study: Sustainable development. A panel discussion with development practitioners will focus on sustainable development issues in the Kyrgyz Republic. Afterwards, take part in an interactive workshop working through real-life case studies and scenarios. In the evening, attend a cultural event (optional).
Day 5:           Case study: Conservation and biodiversity. Drive to the beautiful Ala-Archa National Park and learn from an experienced biologist and conservation worker about the local ecosystems and challenges they face. Following this, hike through the valley to a waterfall (approx. 6 hours return), then return to Bishkek.
Day 6:           Case study: land management (pastures). Join an all-day workshop on pasture management, and experience decision-making around pasture management issues, explored through role-plays and case-study scenarios.
Day 7:           Field trip (day 1). Drive to the central Kyrgyz Republic then spend the afternoon in a regional village. Attend a cultural activity (optional), and stay with a host family.
Day 8:           Field trip (day 2). Early morning drive to a small village from where the hike to the yurt camp begins. Hike approx. 5 hours with a break for lunch. Overnight in a yurt.
Day 9:           Field trip (day 3). Hike to a glacier and glacial lake and discuss issues of pasture management, climate change, conservation, and sustainable development. Overnight in a yurt.
Day 10:         Field trip (day 4). Early morning hike from the yurt camp to the small village (approx. 5 hours) and return to Bishkek by car.
Day 11:         Enjoy a free day with time for preparation for the seminar and sightseeing (optional).
Day 12:         Participate in an all-day seminar on natural resources governance issues with local university students, focusing on the study tour's case studies. In the evening join a final farewell dinner and mini awards ceremony.
Day 13:         A taxi will be arranged for a transport to the airport. Fly out.